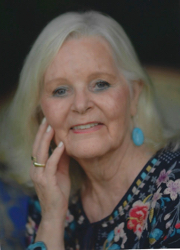 Sylvia Miller maintains a studio and residence in the heart of the Rogue River Valley near Grants Pass, Oregon. She is best known for her spontaneous, location watercolor paintings.
Speaking about her work, she says, "I always considered the expressionistic qualities to be the most important aspect of my work. I work primarily on locations, with a selective eye, looking for color shapes and forms that can be arranged into an impression on paper. The weather, light or mood of the day always affects how I will respond with the paint. I look for strong value patterns which will add strength to my compositions. The spontaneous washes of watercolor that I use when I begin a painting are organized by the more controlled superimposed glazes of rich color and calligraphic line."
An award winning published artist, Sylvia works skillfully in all styles from representational to abstract designs. A truly experienced teacher, in her workshops she encourages students to grow in their own personal art expression, guiding them in reaching their goals.